This story is by longtime outdoor writer, Scott Haugen, and it ran in the June/July 2023 issue of STS magazine. Scott has been coming to Becharof Lodge on the Egegik River for over 15 years and will be back with us again this season. He considers coho fishing on the Egegik River among the best he's seen in the state, and he's been fishing throughout Alaska over 30 years.
Hopping from the floatplane, no sooner had I hit the tundra when professional photographer, Mat Hayward, showed me a picture on his phone. I was just arriving at Becharof Lodge on the Egegik River. Hayward was leaving on the same plane I'd flown in on.
The picture was a closeup of a lady's hand, and on her finger, an engagement ring. Hayward scrolled through more photos. That's when I learned that Dylan Wills had proposed to the woman who is now his lovely wife, Breanna.
"It was a highlight of my trip," smiled Hayward, whom Dylan had told moments before his proposal that it was going to happen. Hayward was lucky to capture the moment for them on film.
Dylan has become a regular at Becharof Lodge on the Egegik River. He's from my home state of Oregon and first learned about this place from prior articles I'd written in the pages of STS. Wills loves to fish. And he loves this part of remote Alaska. He also likes going to Brooks Falls to watch some of the world's largest brown bears catch salmon after salmon. Wills and I share many of the same passions.
But Wills loved it so much that he decided to have his girlfriend join him on the trip last August. When they left camp, they were engaged. Now they're married and their lives are forever changed. Alaska tends to have a life-changing impact on people.
A year prior, I actually stood alongside Wills when he made his very first cast with a surface popper on the Egegik River, and caught a dandy coho. It was a goal of his that year to catch just one coho on a popper, and he did it on the first cast. It wasn't his last.
It's Wills' passion and love of fishing and the outdoors that really grips me. In fact, that's what makes spending time in remote Alaska with so many people I've met over the years, so special. In the end, enjoying life and having fun memories is really what this journey is all about.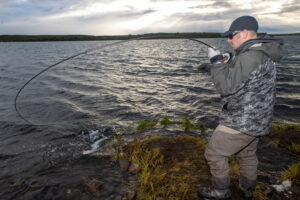 If you've ever dreamed of fishing in Alaska, but have never gone, go. If you think it's too expensive or too hard, it's not. Last spring five buddies and I fished for springers on the Columbia River. We fished a total of 96 man-hours. Add in lodging, meals, gas, my friend's $50,000+ boat, and our cost per fish caught was high as we each went home with only a small baggy of fillets. As we trolled the Columbia, I couldn't help but reflect on the number of days I've had over the years on the Egegik River where I'd landed nearly 100 coho in a single day of fishing. Don't get me wrong, even a slow day of springer fishing with friends is a great day, no matter where you are. But it's those slow times fishing close to home that make me yearn for Alaska, even more. Others who've been there feel the same way.
Last August a guest at Becharof Lodge celebrated his birthday while there. He was invited by buddies 14 years prior and had such a great time they keep returning at the same time every season. Yes, 14 years straight of celebrating your birthday in a place you want to be, surrounded by friends, catching lots of fish, and taking in the sights and sounds that make this part of Alaska so memorable. His homemade birthday cake was decorated with BnR Tackle Soft Beads, the man's new, favorite, go-to presentation. Who knows what will adorn his birthday cake this year?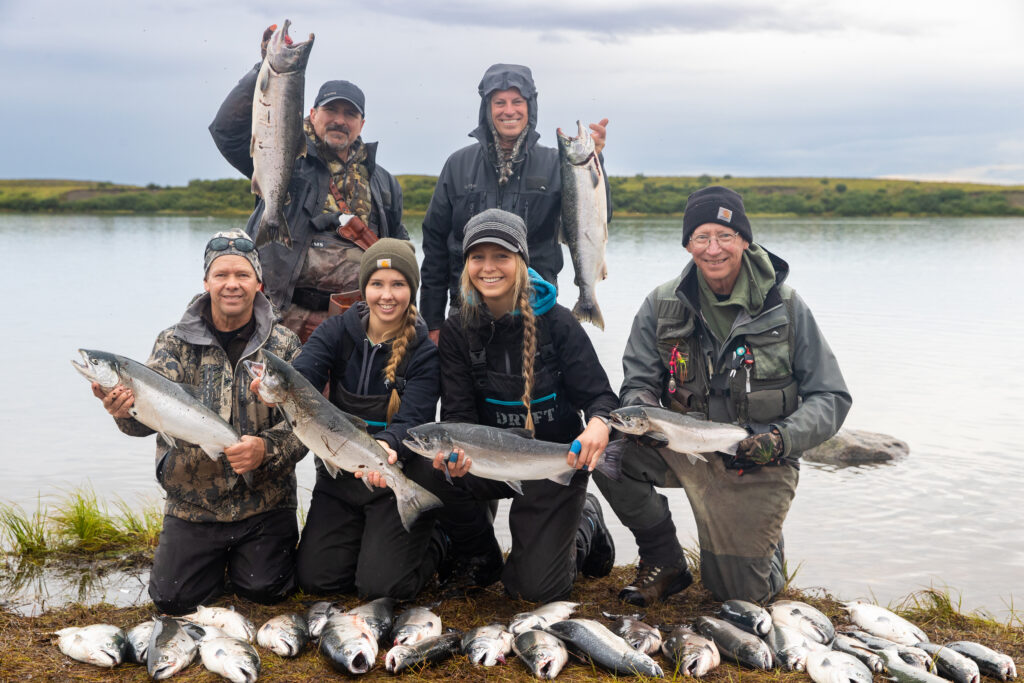 When I first fished with Becharof Lodge over 15 years ago, it was a tent camp. The new owners, Mark Korpi and George Joy, bought the lodge four years ago and have upgraded things. Now there are buildings with plenty of room to sleep, stay dry and keep warm. Multiple bathrooms, complete with showers and flush toilets, make the camp an appealing place for anyone who wants to go, from singles to families with kids, to aging souls who just want to go fishing and are looking for a safe, easy river to fish from shore.
Since Covid, the cost of traveling to remote Alaska has increased, as it has everywhere. It's not cheap to get food, fuel and other resources to this remote lodge. And while bushplane transportation costs have risen, in the end this is still a very affordable place to fish. Not only that, the coho run on the Egegik River could be the best in all of Southwest Alaska. I know several friends who work at lodges in the region and many of them were struggling to catch coho last year. A number of them even chartered flights for their clients to fish the Egegik River. One lodge located on a river to the north charges over double what Becharof Lodge does, and believe me, staying on the river that you're fishing leads to a lot more coho being caught.
Getting to Becharof Lodge on the Egegik River is easy, it just takes a bit more time than it used to due to some airlines still recovering from the pandemic. Anglers have the choice of flying in to Anchorage or King Salmon, spending a night, then heading to camp the next day. If overnighting in Anchorage, you'll catch the commercial flight on Alaska Airlines into King Salmon the following morning. You have to take the morning flight in order to have time to hop on the bushplane flight to camp. When arriving in King Salmon, Trygg Air–the lodge's bushplane service–will meet you. If going into King Salmon the afternoon before your departure to Becharof Lodge, the place you're staying will get you to the Trygg Air facility for your flight the following morning.
The bushplane flight from King Salmon to Becharof Lodge takes 30 minutes, and it could be on a wheel plane or a float plane, depending on several factors. Before you hop on the bushplane, have your rain jacket handy as there is a five minute boat ride when you arrive on the Egegik River, to the lodge. If it's raining, you'll want to slip into your waders for the flight from King Salmon to the lodge, so you're ready to face the elements; the pilot will inform you ahead of time.
This is not a fancy ordeal, it's fishing in remote Alaska, so practical planning is essential and there's no need for formal attire. This isn't your $15,000 elite lodge, but the fishing will make you think otherwise. Keep in mind that when traveling in remote Alaska on bushplanes, the pilot is never, ever late and they have the last call, always.
As for fishing gear, you don't need to bring anything unless you want to. Becharof Lodge is equipped with quality G.Loomis and Stryker salmon fishing rods, Shimano reels, and they have all the terminal gear you'll need. That said, some folks do like bringing their own tackle.
I often take a mix of spinners, twitching jigs, beads, and float fishing tackle to accommodate eggs and jigs. For lures, Flash Glo UV Casting Squid Spinners by Yakima Bait are my favorite, and any color combination of pink and silver are deadly. The 1/2-ounce versions are a great, all-around choice. If it's windy and you need to cast farther, upsizing to a larger 5/8- or 7/8-ounce UV Casting Spinner, minus the skirt, is wise, so take a few of those along.
BnR Tackle Soft Beads have been the talk of Becharof Lodge the past three seasons, with the 32mm and 25mm models catching cohos by storm. Cerise and pink colors are the rule. If you want to learn to twitch jigs, the Egegik River is made for it. A 3/8-ounce Twitcher Jig in any color combination of pink, purple and black, are hard to beat. And if fishing jigs beneath a float, an 1/8-ounce jig is perfect.
Eggs can be fished on the Egegik River, too, and those will be cured with various ProCure egg cures at the lodge and ready for you to fish. Leaders will be provided, but if you want to bring your own, tie up some 2/0 hooks on 12- to 15-pound leader.
The Egegik River is about the best I've seen when it comes to catching coho on surface poppers and plugs. Pink poppers–be it for spinning rods or flyfishing–are the ticket. I like casting 2.5 and 3.0 Mag Lips from shore, too, with cerise colors dominating the lineup.
Toss a braided line cutter into your bag, along with long-nosed pliers, and you're set. What you'll likely find is, even though Becharof Lodge has guides to help you on the river, you'll be walking the banks in search of fish on your own. When this happens you want to be able to re-rig your own rods and unhook your own fish so you're not waiting around.
The Egegik River is easy to wade and fish. You'll get dropped off by one of the Becharof Lodge guides at daylight and fish the prime holes, which can change from year to year, even day to day based on water flow and wind. The Egegik River is a shallow river, so even high winds can move fish around.
This marks my 33rd year of fishing in Alaska. The first time I went I thought it was going to be a once-in-a-lifetime deal. It wasn't. Alaska grips you and keeps bringing you back. Once you experience it you'll find ways to save money so you can keep returning.
Alaska is a special place and the people at Becharof Lodge on the Egegik River are simply wonderful to be with. I'll be back again this August, and maybe I'll see some of you there. After all, nearly 3/4 of all their guests are STS subscribers. There's a reason I keep going back to this magical part of remote Alaska, year after year. Actually, there are many reasons.