Remote, Comfortable & Affordable
Our remote Alaskan fishing lodge is situated on the upper stretches of the Egegik River. From here, access to some of the best silver salmon fishing in Alaska is only minutes away.
As part of the new management which began in September, 2019, we have recently upgraded our accommodations from weather-port style tents to framed buildings with electricity. There's a permanent kitchen and dining hall, multiple cabins with spacious gathering sites, new bedrooms with bunk beds, as well as multiple flush toilets and hot showers.
•$4,850 includes RT bushplane; 50% deposit secures spot
•Cancellation receives refund if we can fill spot or deposit is rolled over to the following year or forfeited
Overlooking the beautiful Egegik River, you'll watch some of Alaska's most stunning sunrises, complete with a distant, active volcano. To the west, watch the sun set out your backdoor, dipping into the Bering Sea across the captivatingly beautiful tundra.
Becharof Lodge On The Egegik River is a fishing camp specializing in coho fishing, brown bear viewing, and flyout fishing adventures to even more remote destinations in the Last Frontier. Our camp is remote even by Alaska standards, and we make the best effort to offer you a comfortable experience. Our cook has been with us for many years, and you can count on excellent meals, and full days of fishing.
Should you have enough fishing at any point in the day, return to camp for some R&R. Our internet service is extremely limited, sometimes not available at all. We have no cell phone coverage at camp, but we do have a camp satellite phone in case of an emergency.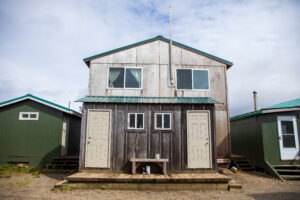 At Becharof Lodge On The Egegik River we are diligently striving to operate in an environmentally positive way, which means off the grid. We produce the camp's power from solar panels and wind generators with a battery storage system. We want our valued customers to experience real Alaska at an affordable price, without being interrupted by continuous access to the outside world which can hamper the unique feeling of what makes this place so special.
While we may not be a fancy, $10,000 a week lodge like some in the region, our world-class coho fishing and breathtaking views surpass that value, creating one of Alaska's most affordable remote fishing adventures. Your time with us at Becharof Lodge on Alaska's Egegik River is designed to accommodate 5 days of salmon fishing and 5 nights stay, but some planning on your part is essential in helping make this happen. For more details on the importance of travel and booking your flights in order to optimize coho fishing time with us, check out our detailed blog post by clicking here.