Your time with us at Becharof Lodge on Alaska's Egegik River is designed to accommodate 5 days of fishing and 5 nights stay, but some planning on your part is essential in helping make this happen. When booking your flight into King Salmon, please be sure to arrive in King Salmon, from Anchorage, by noon on the day you fly into our camp. Please provide us with your, and your party's, flight plan: names, times, etc. This will ensure a timely departure of the bushplane from King Salmon, into fish camp, and this will allow you time to unpack and hit the river for world-class salmon fishing.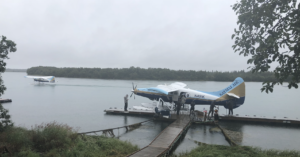 If traveling from the West Coast, most flights arrive in Anchorage early enough in the morning that you
can leave home and be fishing on the banks of the Egegik River by mid-afternoon, that same day. We consider this a half-day of silver salmon fishing with us at Becharof Lodge.
If traveling in a party, please be sure everyone in your group communicates and books their flights for the same times in, and out, of King Salmon, Alaska. This will ensure everyone stays together. Every year people overlook this, thinking they'll get into camp later, or leave camp early, but what they don't realize is bushplanes are very tightly scheduled throughout this part of Alaska this time of year and they will not accommodate their schedules to fit a single person's oversight. If the bushplane is not full, it will not fly until all your party members are there. For example, this means 7 of you could be sitting in King Salmon for hours, having arrived in the morning, waiting for the 8th member of your party to arrive in the afternoon, and if they come in late, you'll all miss out on a potential half-day of salmon fishing with us on the Egegik River.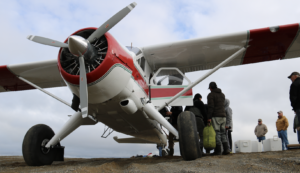 The other half-day of coho salmon fishing comes on the day of your departure from Becharof Lodge on the Egegik River. While most anglers get their fill of fishing fun during the four full days with us, there are a few salmon fishermen who want to get in some more casts. This is done by getting up early and hitting the river on the final day, where we hope to get another half-day of coho fishing in before you leave. In order for this to happen, please book your departure flight home to leave King Salmon after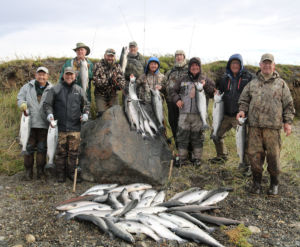 4:00 P.M.–later than that can be even better. Many departing anglers book their flights home from King Salmon to Anchorage, to leave King Salmon at 5:00 P.M. or even 7:00 P.M., reasoning they'd rather be fishing than sitting in airports. Scheduling a later commercial flight home means taking the redeye flight home from Anchorage, or simply overnighting in Anchorage. A late afternoon/early evening departure flight home from King Salmon also allows the bushplanes in the area to get other trips in the region taken care of, then pick you up later in the day at our lodge. This means you'll get another half-day of salmon fishing in on the Egegik River, rather than sitting around camp or having to wait in the King Salmon airport.
Please keep in mind that on rare occasions, bad weather may force pilots into camp earlier than planned on the day of your departure, meaning you can end up spending the better part of the day in King Salmon. Remember, this is remote Alaska and safety is our number one priority. Bush pilots make the final decision on prioritized routes whenever and wherever they fly, and if a rare summer storm moves through, we abide by their experienced advice.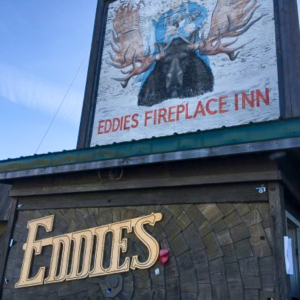 If you end up spending any time in King Salmon, there is a good restaurant and bar called Eddies, that's only a two minute walk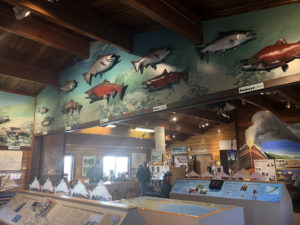 from the airport; there's another restaurant/bar just across the road, north of the airport. Connected to the airport is a small gift shop, and to the north of that, the King Salmon Visitor Center which is a great little museum you could easily spend a couple hours in. The Visitor Center is also connected to the King Salmon airport. There is an AC (Alaska-Commercial) Store and a liquor store a couple minutes walk to the north of the airport, near Eddies.