Coho Fishing The Egegik River
The Egegik River is touted by many experienced anglers as the best silver salmon stream in all of Alaska. Becharof Lodge On The Egegik River was the first fishing lodge to become established on the breathtaking Egegik River, and is less than a 5 minute boat ride from some of the best fishing holes on the entire river.
The gentle flowing Egegik River is wide and shallow along the shorelines, making for very easy walking. No matter what your age, or level of fishing experience, we can put you in safe, easy places where you will catch fish. On good days, experienced anglers can catch and release over 75 coho a day. You are allowed to keep five coho a day.
Waders allow you to comfortably move up and down the river bank, and you can fish any way you'd like. Many anglers come up to fish with us because they want to learn different techniques to catch coho salmon. Standing in one spot, it's common to catch silver salmon by way of drift-fishing eggs, casting lures, floating a bobber and jig, twitching jigs, casting plugs, stripping flies and drifting surface poppers with a fly rod. Remember, in all of Alaska's streams it's required that wading boots have rubber soles–no felt soles.
With quick, easy access to many prime holes on the Egegik River, including the mouth of Becharof Lake, there's always a place to fish. The upper end of the Egegik River holds some dandy Arctic char, too.
If you want to experience fishing even more remote streams in Alaska, hop on a float plane for a day. We have access to dozens of the most remote streams in all of Alaska, where you can catch multiple salmon species, big Arctic grayling, Arctic char, rainbow trout and fish along side mighty Alaskan brown bears. Due to our camp's location, flyouts are among the most affordable in Alaska.
While fishing with us at Becharof Lodge On The Egegik River, the chances are very good that you'll see a brown bear. But if you want to be assured of seeing brown bears, we offer day flyout adventures to nearby Brooks Falls. Famed Brooks Falls is a 30 minute bushplane flight from our lodge, and here you can expect to see many brown bears. During the peak of the sockeye run in late July and early August, seeing dozens of giant brown bears a day is the norm. The cost of a roundtrip flyout, be it brown bear viewing at Brooks Falls or fishing a remote stream, runs about $650 per person and is subject to bushplane regulation.
The typical day begins with breakfast around 6:30. By 7:00 A.M. we're hitting the river fishing for coho. Lunch is around noon, and most of the time it's a shore lunch prepared by our cook. After lunch, continue fishing for silver salmon, often going to a different place from where you spent the morning. Some veteran anglers like taking a sack lunch with them after breakfast, hiking the river on their own, fishing all day, returning to camp by 6:00 P.M. At Becharof Lodge On The Egegik River we're all about catering to your personal needs.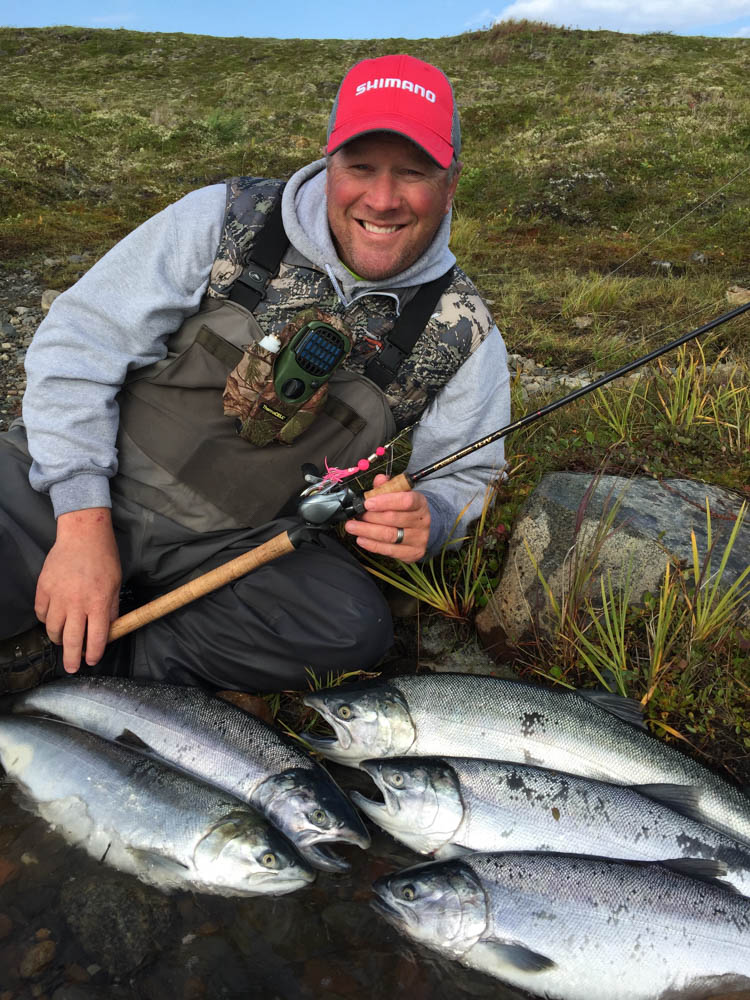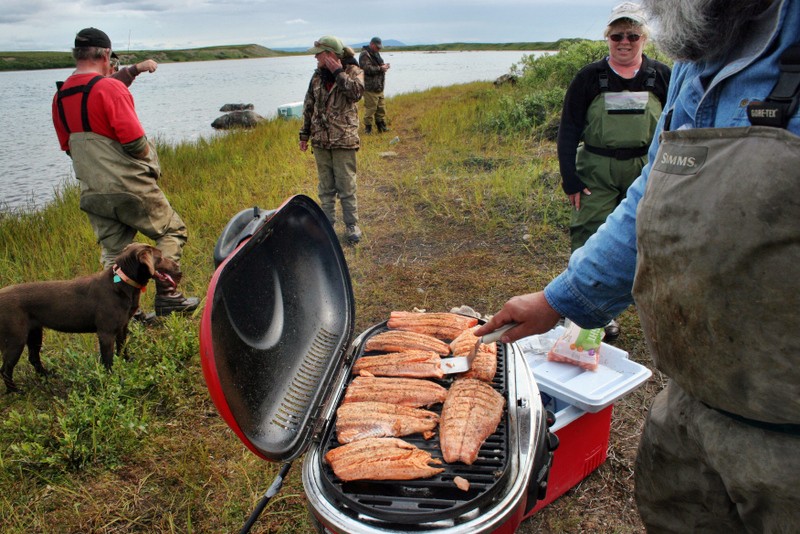 Included in these fishing trips:
Experienced, fully guided fishing.
Comfortable cabins furnished with beds, cozy comforters & bedding.
Home cooked meals, snacks, and nonalcoholic beverages.
Transportation from the lodge to prime fishing holes on the Egegik River.
Freezing and vacuum sealing of your fish, up to 50 lbs., per angler.
Not included: Alaska Fishing License, Airfare and Air Charters (reduced air charters are available), Alcoholic Beverages
License info can be found here.
Terms: •$4,850 total cost; 50% deposit secures spot
•Balance due by mid-May
•Cancellation receives refund if we can fill spot or deposit is rolled over to the following year or forfeited
You will need to be in King Salmon before noon on the day you're flying into camp, and you need to book your departing flight out of King Salmon for after 4:00 P.M. on the day of your departure. Click HERE to see why efficient travel time is important in maximizing your salmon fishing time.
•Group 1 (fly in) July 31–Aug. 5 (fly out)…(5 openings)
•Group 2 (fly in) Aug. 2–Aug. 7 (fly out)…(8 openings)
•Group 3 (fly in) Aug. 5–Aug. 10 (fly out)…(4 openings)
•Group 4 (fly in) Aug. 7–Aug. 12 (fly out)…(8 openings)
•Group 5 (fly in) Aug. 10–Aug. 15 (fly out)…(8 openings)
•Group 6 (fly in) Aug. 12–Aug. 17 (fly out)…(8 openings)
•Group 7 (fly in) Aug. 15–Aug. 20 (fly out)…(SOLD OUT)
•Group 8 (fly in) Aug. 17–Aug. 23 (fly out)…(SOLD OUT)

•
Group 9
(fly in) Aug. 20–Aug. 25 (fly out)
…(2 openings)
•
Group 10
(fly in) Aug. 23–Aug. 28 (fly out)
…
(

SOLD OUT

)

•
Group 11
(fly in) Aug. 25–Aug. 30 (fly out)
…(6 openings)

•
Group 12
(fly in) Aug. 28–Sep. 2 (fly out)…
(8 openings)
•
Group 13
(fly in) Aug. 30–Sep. 4 (fly out)
…(8 openings)

•
Group 14 (fly in) Sep. 2–Sep. 7 (fly out)
…
(5 openings)