At Becharof Lodge on The Egegik River we cure up a lot of salmon eggs. Cured salmon roe is some of the best bait there is when it comes to catching salmon in rivers. Due to the incredibly high number of coho salmon making their way into Alaska's Egegik River–and the fact the fishing pressure is so minimal–we are able to fish with bait all season long.
Here are some egg curing tips we've learned through years of trial and error, and hope they will help you, not matter where your salmon fishing adventures may lead.
Prior to going salmon fishing, invest in at least three different egg cures and have them ready to go when you get home from your fishing trip. Neglecting to have the proper ingredients on-hand is a common mistake that often keeps anglers from properly curing their eggs.
There are many good shake-and-bake cures on the market. Today's cures are more precise than 20 years ago, as the balance of sugars, salts, dyes, sulfites and other ingredients have been carefully tested and proven. A favorite packaged cure of ours when it comes to Alaska salmon fishing is TNT, in the Radical Red followed by their Kenai flavor. Pro Cure makes some great packaged cures we've had wonderful success with, along with impressive scents and dyes. Pro Cure also carries some not so easy to find ingredients for creating your own curing recipe, including sulfites, nitrites, anise oil, a multitude of other oils and even nitrile gloves which are key in keeping the oil from your hands coming into contact with the eggs. Other good, proven egg cures for Alaska include those made by Pautzke, Nate's Baits, and Smelly Jelly.
If eager to try a homemade egg curing recipe, give this one a shot. It consists of 1 1/2 cups borax, 3/4 cup white sugar, 1 tablespoon sodium bisulfite and 6-10 drops of pure anise oil. Curing eggs with this recipe requires a few days of tending, but the end result is the best all-around egg we've fished with for multiple salmon species throughout Alaska and the Pacific Northwest; it also works great on steelhead.
If going on a fishing adventure where you know you're likely going to bring home several pounds of eggs, then stock up on multiple cures. We have a number of anglers who fish with us at Becharof Lodge on The Egegik River who take home several pounds of salmon eggs every year, just to cure them up so they can go salmon fishing back home.
Why the need for different egg cures? Because salmon can be finicky, and what catches them one day, or one hour, may not produce the next. If a salmon bite turns off, it's not always because the fish happened to swim away, rather that they got tired of seeing and smelling the same cured eggs over and over again. Try a different cured egg in the same spot, and the bite just might turn on again.
The best cured salmon eggs are the ones that are first cured then fished, without freezing. The next best salmon eggs are the ones that have been cured, frozen, then thawed and fished with. Third best would be salmon eggs that have been frozen prior to curing, then thawed, cured and fished. Last–a big last–in terms of egg curing quality, are the salmon eggs that have been frozen, thawed then cured, refrozen, then thawed again to fish with.
The individual cells of salmon eggs primarily consist of water which is where osmosis comes in during the curing process. Every time the eggs freeze and thaw, the water expands and contracts, fracturing the cell wall. A poorly cured egg milks out fast, quickly deteriorates to nothing more than white flesh and won't stay on the hook very long. A well-cured egg maintains it's color, shape and keeps milking out for up to 10 minutes or more.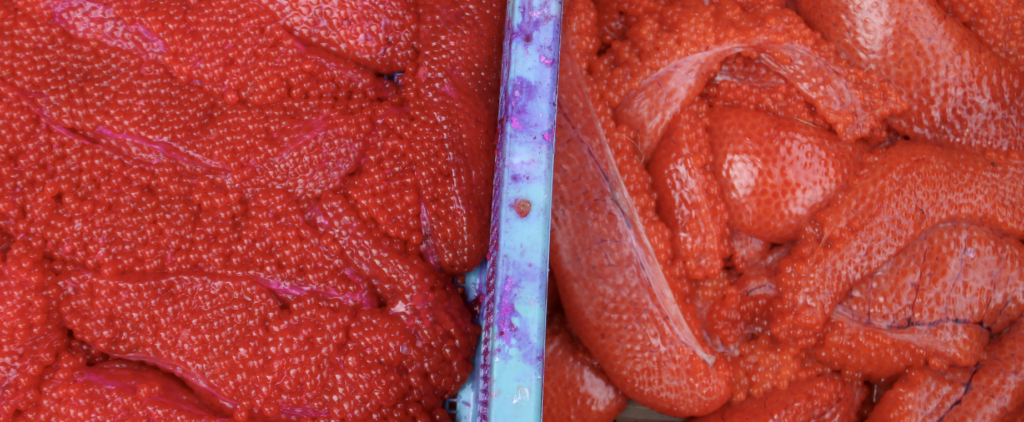 It's never too early to start planning your salmon egg curing preparation, especially if traveling to Alaska. Invest in some cures and curing ingredients, now. No matter what the species, all salmonids yield prime eggs for curing, even pink and chum salmon. Be ready to cure the eggs once you have them in-hand, and you'll be impressed with how productive a well-handled batch of freshly cured salmon eggs can be.