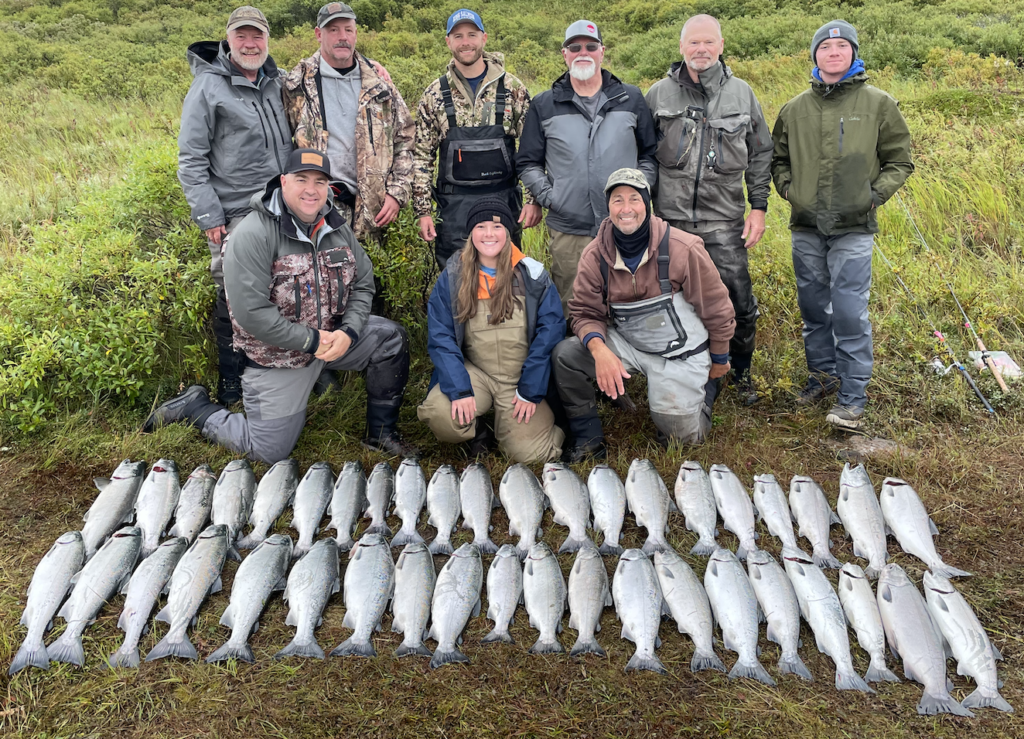 Everyone who fishes in Alaska wants a mighty king salmon, just as every hunter who travels to Alaska wants a big bull moose. The starting point to preserving king salmon runs starts with a change in thinking, so forget about kings, at least for a few years, and focus on coho salmon.
Coho salmon runs are later in the summer than king salmon, they're plentiful, and silver salmon occupy many rivers and streams throughout Alaska. This means you don't have hoards of anglers congregating in small sections of an Alaska river, as you do with king and even sockeye salmon.
Coho salmon runs are also much longer than kings, lasting months instead of a few weeks. August through October is prime time to catch coho, but there are rivers in Alaska where you can catch them in late July, even into early November. At Becharof Lodge on the Egegik River, our coho salmon fishing season runs for five weeks–all of August and the first week of September.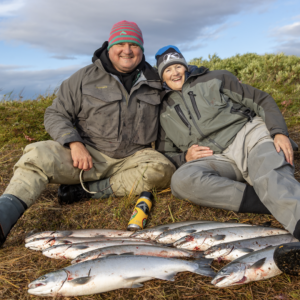 Limits are also generous when it comes to silver salmon in Alaska, meaning you can put a lot of meat in the freezer or canner. At Becharof Lodge on the Egegik River, anglers are allowed 5 coho salmon a day. Many anglers fish with cured eggs, once we cure at camp with ProCure Bait Cure. After four coho are caught and kept, they'll switch to artificial baits and keep fishing, catch and release, for coho salmon.
As for the fight, if a 70 pound king battled as hard as a silver salmon, you'd be hard pressed to land it. Not only do silver salmon jump, they dive, twist, turn and make long runs. Coho salmon in Alaska can be caught in very remote waters, where battling 50 fish a day is common, and you'll never see another angler; it's the ultimate Alaskan fishing experience when you think about it and that's what we strive to offer at Becharof Lodge.
Coho salmon on the Egegik River can also be fished for in multiple ways, adding even more to the adventure and fun of catching them. Coho can be caught on jigs–both twitching and suspended beneath a float–as well as on a variety of spinners, even by casting shallow diving plugs. Silver salmon on the Egegik River are famous for their love of topwater plugs–something bass and pike anglers will enjoy–and on poppers by flyfishing fans. Once you experience the thrill of a coho topwater take on Alaska's Egegik River, you'll be hooked.
Coho salmon routinely migrate close to shorelines on the Egegik River. And because the Egegik River runs so shallow and clear, we bank fish for the salmon. This makes it easy and safe for anglers of all ages and ability levels.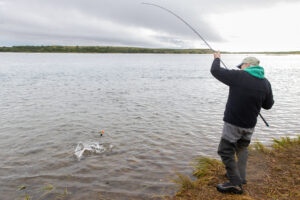 Because anglers like venturing off on their own to explore the coho fishing along the banks of the Egegik River, we suggest bringing a pair of sturdy needle-nose pliers and a braid cutter. These will aid in safe and quick hook removal, and retying terminal gear when needed.
What many customers lover about the Egegik River is it's remoteness, but it's not too expensive to get to compared to other isolated places in that part of the state. The accommodations at Becharof Lodge on the Egegik River are more of a comfortable camp than a fancy lodge that charges three times the rate, and the fishing is as good as you'll find anywhere in Alaska; and we've had many anglers over the years, tell us so. Many first time anglers have come to Becharof Lodge and landed over 50 coho a day. Veteran anglers release over 100 coho a day during the prime weeks of the coho season in mid to late August. By early September, the coho salmon in the Egegik River are quickly gaining weight, and catching a 15-pound silver is common.
If you want to learn how to salmon fish, catching fish while learning different techniques makes it fun, rewarding and significantly flattens the learning curve. If looking to hone a new technique, what better way to learn than practicing where there are fish…right here on Alaska's
Egegik River.
One of the techniques many salmon anglers are eager to master is twitching jigs. It's not easy to learn to twitch, properly. "So many anglers put emphasis on the twitching action, or the lifting of the jig, when it's a quick, rapid fall you want to achieve," notes our veteran guide at Becharof Lodge, David Stumpf. "You don't want to snag fish by quickly lifting the jig into them, you want them to attack it, and this happens on the drop which must occur in a fast, free-fall, action." If you're serious about learning how to twitch jigs for salmon and steelhead, Stumpf would be happy to teach you.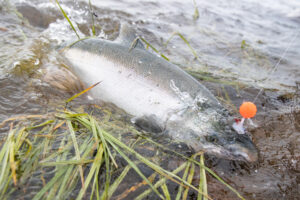 Fishing big beads for coho is another draw of the Egegik River, and BnR Tackle Soft Beads has become our go-to bead on the Egegik. Many folks aren't even fishing eggs for coho anymore on the Egegik River, figuring they actually get more fishing time, not having to mess with eggs, and ultimately, catch more fish.
The 32mm BnR Tackle Soft Beads have been the hottest size on the river for the past three seasons, but some anglers still think of it as a single egg rather than an egg cluster, and struggle with the mental concept of using such a large bait. Coho are ravenous predators and have huge mouths; a 32mm bead is nothing for them inhale. Last season anglers even caught lots of coho on 40mm Soft Beads, proving silver salmon will bite big baits.
Over the years, as other methods stepped to the forefront of salmon and steelhead fishing, drift fishing took a backseat. If you're a drift fisherman, or want to learn the technique, there's not better place than the for coho salmon on the Egegik River.
The Egegik River is simple to wade and easy to fish. The fine gravel bottom means we lose very, very little gear. The small gravel bottom and gentle flow of the Egegik River means few hangups, which maximizes fishing time and leads to more coho salmon being caught.
A fun and very successful way to catch coho salmon on the Egegik River is by casting plugs. Many anglers love casting Yakima Bait Company's 3.0 Mag Lips, in any of the cerise colors. Coho attack these plugs when reeled very slowly, just under the surface.
With a five coho a day limit on the Egegik River, there's no shortage of salmon fillets going home from Becharof Lodge. The staff fillets, cleans, vacuum seals and freezes the fish for the trip home. We have a lot of customers coming back year after year just to take salmon home, claiming it's the best tasting coho they've ever had. Some of these folks have quit fishing kings in Alaska because they couldn't get enough to take home, and that's what makes coho fishing on the Egegik so special.